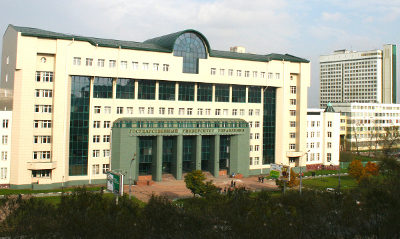 ABOUT THE UNIVERSITY
For a hundred years, the State University of Management has been a leader in management education in Russia. Over 12 thousand students study at SUM. The university offers 13 Bachelor's programmes, 9 Master's programmes and 8 postgraduate programmes.
SUM comprises 6 educational institutions with a total of over 40 academic departments and research divisions. Around 4 thousand specialists and senior managers receive additional professional education at SUM every year. Since its establishment, the university has successfully prepared over 100 thousand qualified managers for different economic sectors.
The State University of Management is a well-established multi-level research and educational complex. It is rightly considered the "father" of Russian management education. SUM is the leader in the further education and discovery of management professionals for the Russian economy.
The State University of Management is one of Russia's strategic universities.
BACHELOR'S PROGRAMMES
Business Informatics
Hotel Management
Public Administration
Innovation
Management
Political Science
Applied Informatics
Applied Mathematics and Informatics
Advertising and PR
Sociology
Human Resources
Economics
Law
MASTER'S PROGRAMMES
Hotel Management
Public Administration
Innovation
Management
Sociology
Human Resources
Banking and Finance
Economics
Law
INTERNATIONAL ACTIVITIES
The State University of Management is a member of international organisations and associations, such as: The International Association of Universities (IAU), The European Foundation for Management Development (EFMD), The Central and East European Management Development Association (CEEMAN), The International Federation of East Asian Management Association (IFEAMA), The American Management Association (AMA), The Network of Institutes and Schools of Public Administration in Central and Eastern Europe (NISPAcee), The European Association for International Education (EAIE), The Association of BRICS Business Schools (ABBS).
According to Russian law, full-time students of accredited education programmes obtain draft deferment
The University provides accommodation in halls of residence for students from other cities