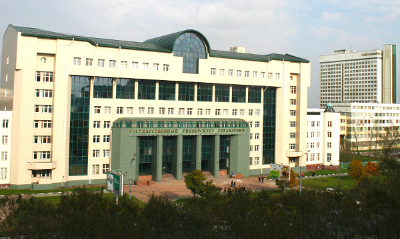 State University of Management is one of the largest state higher education establishments of Russia, specializing on training managers. This makes our institution unique and original. Over 15 thousand undergraduate and postgraduate students are trained at the University.
The University consistently conducts the strategy of developing new management specializations and was the initiator of opening the following core management specialties in the system of higher education of the country, such as management, marketing, human resource management, state and municipal management, economics and production management in national economy.
SUM is an active international player supporting the global research and education process position. University implements programs with the possibility of obtaining a double diploma:
Russian-German-Finnish program in International Management;
Russo-British and Russian-Swiss Programme in International Business;
The Russian-Chinese program in International Business of Industrial Goods;
Russian-Cyprus, Russian-French and Russian-Swiss program for the hospitality and tourism;
Russian-Dutch program of marketing.
SUM is a member of international organizations and associations such as the International Association of Universities (IAU), the European Foundation for Management Development (EFMD), the Central and East European Management Development Association (CEEMAN), International Federation of Associations of Management Asia (IFEAMA), American management Association (AMA), Network of institutes and schools of Public Administration in Central and Eastern Europe (NISPAcee), European Association for international education (EAIE), the Association of business schools BRICS (ABBS).
State University of Management successfully carries out international cooperation at the regional and global levels with universities and educational centers of foreign countries. The main purpose of international cooperation is the integration of the University in the world's educational space.
SUM students have the opportunity to study for one semester in a foreign university with which SUM signed an agreement on academic exchanges. SUM actively cooperates with 26 partner universities from Germany, France, Spain, Italy, Poland, the Netherlands, Portugal, Slovenia, Spain, China, Taiwan, Japan, Korea. Partner universities offer instruction in English in a wide range of areas of study, from economics and management to history and language courses. According to the results, students receive an official certificate of courses taken and credited credits (ECTS).
In addition, foreign students of partnering universities can come on semester basis in SUM. Training is conducted both in English and in Russian (with a sufficient level of proficiency in Russian).
Academic Exchange allows you to build and maintain friendly relations with international partners. Today, our students have successfully obtained their education abroad and we in turn make every effort to ensure that students from other countries feel comfortable in the SUM and receive high quality education.