International Activities
The State University of Management successfully implements international cooperation at the regional and global levels with the universities and educational centres of foreign countries. The main goal of international cooperation activities is to integrate the University into the global education system.
International activities of the State University of Management are carried out within the framework of cooperation programmes implemented with leading foreign universities, international educational programmes and projects as well as joint research activities and programmes for development of academic mobility.
The State University of Management maintains strong relations with many foreign universities and international organisations. Among the Honorary Doctors of the University are famous international political and public figures and prominent scientists.
The university campus has become a convenient venue for conferences, meetings and seminars, symposia and competitions conducted with the participation of leading lecturers from foreign partner universities.
The State University of Management is actively working on academic mobility programmes and cooperating with 45 partner universities from 20 countries around the world (Germany, France, Spain, Italy, the USA, the Netherlands, Finland, China and others). Students at the State University of Management can choose among numerous language internships, educational programmes and exchange programmes at various universities of the world.
Student Mobility Programme.
International students from partner universities regularly come to the State University of Management to spend a semester studying here. The students are free to choose whether to take classes in Russian or in English.
Academic exchange helps us build and bolster our friendships with partner universities from all over the world. Today, our students successfully travel to train abroad, while we do our part to make sure that students from other countries feel at home at the State University of Management as they receive top-quality education.
All State University of Management buildings are located in the South-Eastern Administrative District of Moscow, not far from the Vykhino station of the Tagansko-Krasnopresnenskaya Line.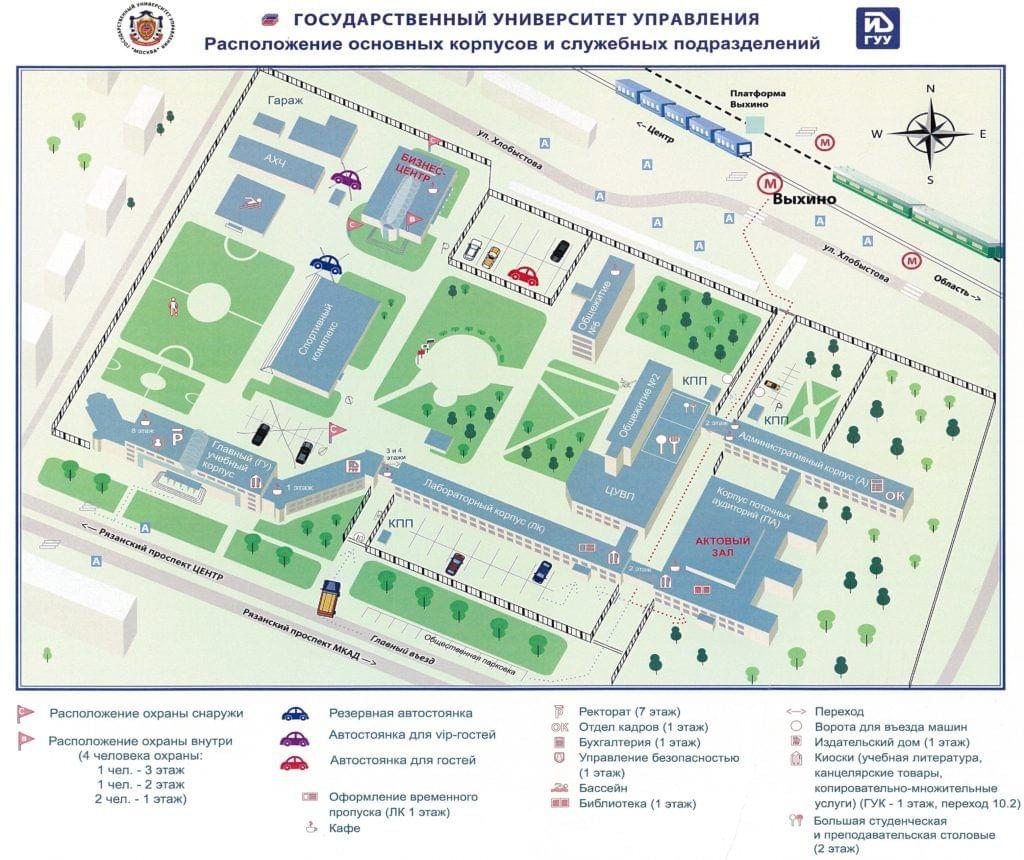 The University complex is comprised out of five academic buildings: the Main Academic Building, the Laboratory Building, the Lecture Auditorium Building, the Administrative Building and the Business Centre. The campus also includes the Athletic Complex, the Centre of Educational and Leisure Programmes, the Swimming Pool and two dormitory buildings.
The University is continuously expanding and upgrading its material and technical resources.
99 Ryazanskiy Prospekt, Moscow 109542
Email: inter@guu.ru, issues related to international cooperation and academic exchange. A-424 (Administrative Building)
admission@guu.ru, issues related to enrolment and training of international students
Telephone: +7 (495) 377-77-88, ext. 24-14